http://twitter.com/#!/TheTonyHam/status/273781531372318723
Heh! Yes, the Powerball jackpot has hit a whopping $500 million.
ALERT: Powerball jackpot is now $500,000,000. The next drawing is on Wednesday.
— CNBC (@CNBC) November 27, 2012
RT @ericlupher7news Quite the site. SO MUCH MONEY. Where people are lining up for a #powerball ticket #7newsNOW @5am twitter.com/EricLupher7New…
— Ana Cabrera (@AnaCabrera) November 28, 2012
Twitter is, of course, buzzing with the news. This Twitter user is already bargaining.
Lord, I promise that if I win the powerball, I'll tithe 20% instead of 10% BEFORE taxes. If you need more, just let me know after I win.
— ☀Sunshyne☀ (@RandiMechelle) November 28, 2012
And this one is trying to cash in on retweets?
LISTEN UP: IF I WIN, Anyone who retweets this #powerball will receive a portion! twitter.com/yaboybillnye/s…
— YA BOY BILL NYE (@yaboybillnye) November 28, 2012
If he wins, and keeps his promise, he's going to be doling out a lot of portions! It's been retweeted 1,075 times and counting!
Thousands of other users tweet pics of their tickets.
Powerball Photo Fever! 5,000 Players Instagram Their Tickets on.mash.to/118poDe
— Pete Cashmore (@mashable) November 28, 2012
You've gotta play to win! #powerball @ Lewes Daily Market instagr.am/p/SkyCVyt7dB/
— Mariah Calagione (@Cheers2Sumpthin) November 28, 2012
Including the gang at "Good Day NY."
Someone forgot to contribute to the office powerball pool @davepricetv @audreypuente twitter.com/rosannascotto/…
— Rosanna Scotto (@rosannascotto) November 28, 2012
This picture was taken before @davepricetv found out he missed the deadline for the Powerball Office Pool. twitter.com/AudreyPuente/s…
— AudreyPuente (@AudreyPuente) November 28, 2012
Heh.
Plenty of buzzkills abound, natch.
Heard on the radio this AM: you have a better chance of becoming possessed by the devil than of winning Powerball. #stillboughtaticket
— Hallie Jackson (@HallieJackson) November 28, 2012
Justin reports the bizarre fact that you are more likely to die from eating a Japanese blowfish than to win the PowerBall.
— Tim Wieland (@CBS4Tim) November 28, 2012
Including CNN.
http://twitter.com/#!/RubinReport/status/273647772941549569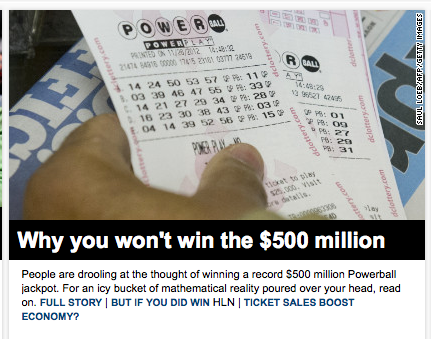 Cripes! Way to crush dreams, CNN! Unless CNN is trying to keep all the tickets for itself? Dastardly, CNN. Dastardly.
And Twitter brings its signature snark. Snarky tweets? Priceless.
Wonder Why? RT @breakingnews: Record Powerball jackpot increased to $500 million for Wednesday's drawing amid soaring ticket sales – @ap
— BiasedGirl (@BiasedGirl) November 27, 2012
I just bought 10 tickets for the Powerball $500 million jackpot. Nine of them are for charity, and one for me.I'll decide which one later.
— RUTH BUZZI (@Ruth_A_Buzzi) November 28, 2012
LOL RT @kristinaribali: Yes a bought a Powerball ticket.No I won't tell you if I won.You'll just never ever hear from me again.
— Fred M (@fredontwittur) November 27, 2012
"Do you feel lucky? Well, do ya, punk?" —Me standing in the mirror naked and covered head to tow with Powerball tickets.
— Wile E. Quixote (@ScottLinnen) November 28, 2012
My odds of winning Powerball are 1 in 178M, which, per Nate Silver, is still better than Romney's odds of winning the presidency were.
— Jerry Mandarin (@parksideq) November 28, 2012
the Obama Lottery: everyone who plays gets to split the money @chris_1791 Powerball Hits $500 Million Jackpot goo.gl/QG4uC
— Richard Grenell (@RichardGrenell) November 27, 2012
If government seized the Powerball jackpot it could run itself for less than an hour and a half. That's how big government has gotten. #Fail
— Derek Hunter (@derekahunter) November 27, 2012
If I win the Powerball jackpot I'm going to corner the market on birth control pills and sell them to libs for a $9 copay.
— Sean Hannity's Hair (@SHannitysHair) November 27, 2012
I don't understand Powerball…So, Florida is the swing state?
— mb (@imsure) November 28, 2012
Thanks for the giggles, Twitter! Good luck, everyone!
Read more: http://twitchy.com/2012/11/28/powerball-jackpot-hits-500-million-powerball-tweets-priceless/